Small employers, in particular, face many extra challenges and burdens when recruiting staff. The demands of flexible working, Brexit, and new regulations like the Low Pay Commission and social media make recruiting and retaining a diverse workforce more difficult.
There has been an increase in awareness of the issue of diversity in employment and particularly that minority groups are disproportionately affected by issues such as discrimination and adverse social conditions, which limit their chances of employment or an improved job. Diversity brings a variety of perspectives and benefits, but challenges also emerge and create additional barriers.
From the business perspective, if diversity is relevant, fit and relevant to the requirements of a business, then it can be worthwhile to consider diversity. It may be that a business has a diverse staff that adds diversity to a business, but is that diversity deemed necessary, or was the lack of diversity precisely why the business faced difficulties in its journey?
A business can employ a wide range of temporary staff, and some may choose to do so exclusively. In the UK, as in many other parts of the world, the diversity of temporary staff that employers employ is quite specific in that it tends to be largely white and male, particularly if the employee is already well established in the business and has access to lots of money. In particular, businesses tend to be more focused on hiring employees whose cultural background and social circumstances are similar to their own.
But just because the business has adopted such a policy doesn't mean it can't and won't find diverse candidates. In fact, a business can hire a wide range of temporary staff. If it hires different temporary staff to staff levels, that is still a diverse workforce, because it involves an active recruitment effort. However, if the business employs a large proportion of temporary staff in order to get a business at a particular time of year, or because the employer only employs this kind of person, then it's too late to apply the same strategy.
Employees in the United Kingdom's clothing industry were the most satisfied with their employers diversity policy in 2019, according to a Statista study on Diversity and equality in European companies. Diversity policies in industries within the manufacturing sector had lower levels of satisfaction, with transport and logistics having the lowest score among UK industries.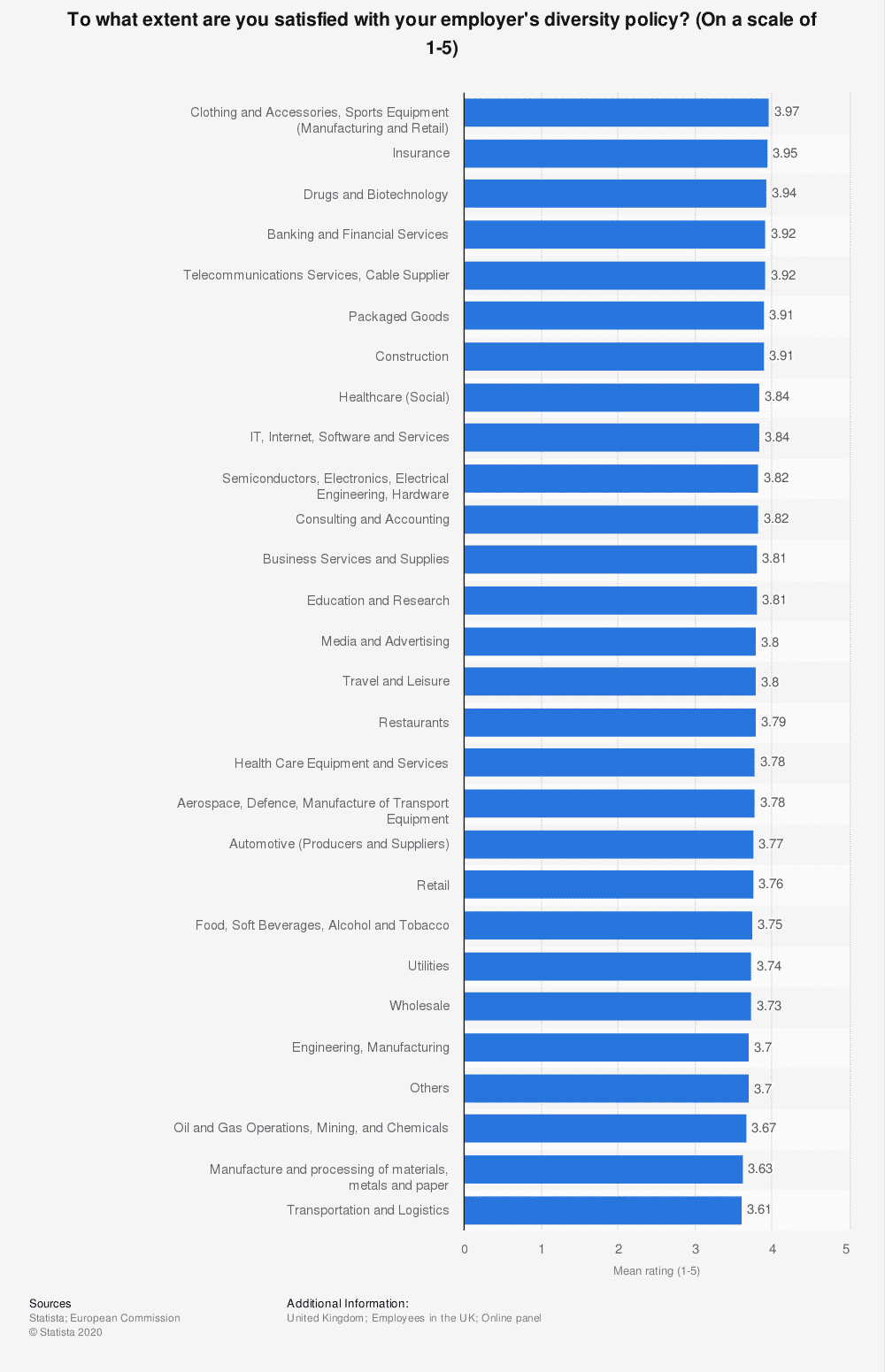 Given the continued need for temporary staff, businesses can benefit from having diversity when employing temporary staff, if it's relevant to the needs of a business and where it makes sense. This is particularly true in the areas where the business relies heavily on temporary staff. If it's hard to find a temporary worker in advance of the completion of a big project, then the business will benefit from being open to diversity and avoiding the risks of the failure to recruit in advance of any problems with the construction of a building, facility or factory. In addition, an employer can benefit from having a diverse workforce, as it adds a variety of perspectives to a business. Having people who have lived and worked in different countries may have an advantage over having no diverse people on the staff.
Here are some tips for employers about making diverse hiring decisions.
There is still a requirement for businesses to employ a diverse workforce
What we mean by diversity is a wide range of individuals with different backgrounds, in addition to those who are similar to you and your staff. There are many different forms of diversity, but the primary way in which diversity applies to business is that it reflects an existing or potential issue with a business or the company itself. Diversity needs to be fit and relevant to the requirements of a business, and it may also need to respond to a company's needs and challenges.
This type of diversity is more difficult to deliver and the benefits may not be immediately apparent, and often there is only an initial benefit or one that is short-lived. Therefore, it may be that employers need to carefully consider how diversity makes sense for their business and its employees.
Diversity may not be immediately beneficial, but it can be beneficial
For example, if there is a need for flexible workers and diversity helps this situation, then diversity may be more useful than hiring a diverse workforce. If a business already has staff who work remotely and the business wants to open up more positions to remote workers, then it may need to hire remote workers in order to make such a shift. If the business doesn't need to hire remote workers, then the business may not want to spend money on diversity and lose out on flexibility.
In other situations, employers may need to take a long-term view of diversity. For example, an employer may want to hire younger staff with different ways of thinking and different skills in order to help the business improve its productivity. When hiring younger people, hiring younger staff may actually make more of a difference to the hiring process than diversity, because it can give the business more flexibility and opportunity to find candidates who fit better and go along with a more flexible management approach.
If you want to hire people from other countries, then there is still a requirement for businesses to employ a diverse workforce
If you want to employ staff from other countries, the UK still has restrictions on nationality for job applicants. Currently, you need a work permit to hire people from outside the EU or to take on new EU employees if you have hired such a person before.
The rules change depending on whether you are hiring to fill one or more vacant roles, as well as on how many vacant roles you are recruiting to fill. For example, if a business hires for two vacant roles, then you will need to have one member of the qualifying workforce from another country, and if you hire for one vacancy, then you will need to have three members of the qualifying workforce.
An employee's nationality may still be relevant, but if it is not for filling roles, then it may not be an issue for the business. If it is for filling a position, and you want to hire a particular person because you feel it will be beneficial to the business or to that employee's career, then you will still need to make sure that the business's staff look more diverse to the wider market to create a more sustainable business.
Depending on the business's demographics, it may also be necessary for it to make some adjustments to its hiring practices to make the business more diverse. An employee's nationality may not make a difference to the actual recruitment process, but it could still be important for a business to target younger, remote, older or more highly qualified employees than the business has in the past.
If a business does need to make some adjustments to its hiring practices, then a business may want to consult with an employment lawyer or a recruitment company. Even if they do not have specific expertise in hiring for diversity, hiring a specialist recruiter can make it easier for a business to make any necessary adjustments and implement a diverse workforce more efficiently.
Bias or prejudice at the recruitment stage, were the main barriers that young black people faced going into employment in the United Kingdom, according to a survey conducted in September 2020. More than half of respondents also advised that lack of diversity in leadership was one of the main barriers that they faced, while 50 percent said that workplaces not being diverse was also a factor.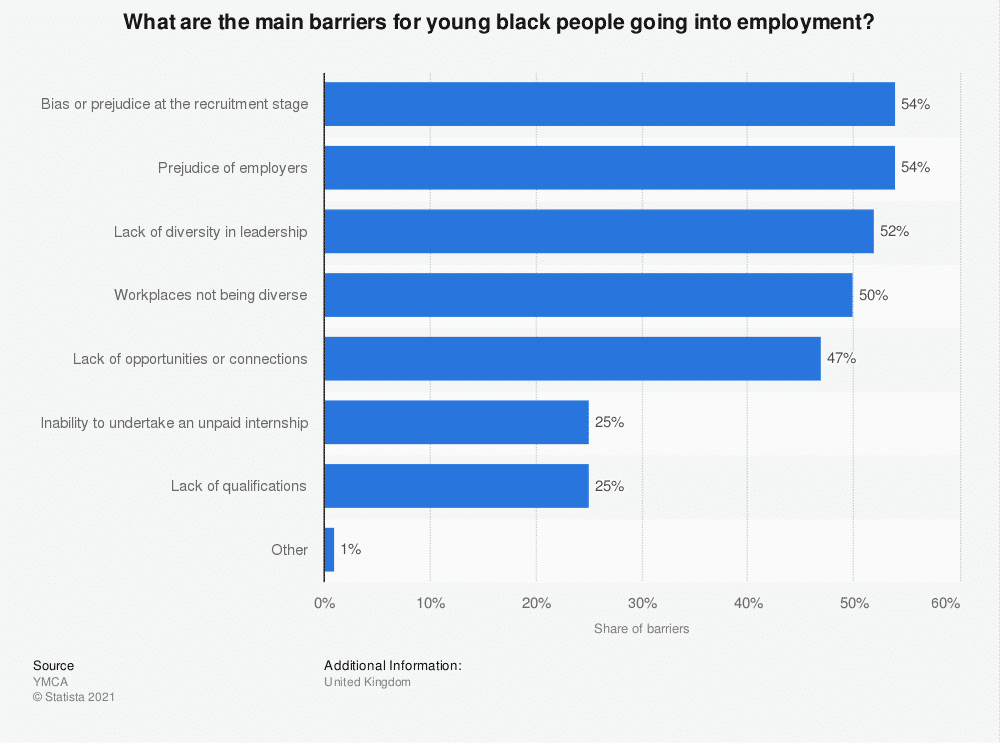 The shortage of candidates
As a business may not want to spend time and money on diversity in the short term, a business may not find itself in a position to hire a diverse workforce because the UK does not have a large enough pool of talented employees to hire from.
When recruiting, it is worth looking to find the most talented individuals in the market, whether that is senior staff or skilled new employees to replace an employee who has left. When it comes to hiring senior staff, it is also important for businesses to keep in mind that some senior employees will be international, because you may have someone who has worked overseas or overseas as a student.
Similarly, as a business may not want to take on foreign workers in the short term, it may not be able to find people who have been working in the UK for a long period of time. Even if you want to take on a new, skilled employee, a business will find that a lot of skilled individuals choose to take on overseas opportunities, particularly because they are so well paid.
Making diversity a priority
Being a business that makes diversity a priority will ensure you have a workforce that is well placed to help the business grow and prosper. It can also help the business look to the future, because employees with different experiences and cultures will offer a broader range of perspectives.
With a focus on diversity, businesses will always be able to find more talented and experienced candidates to fill any vacancies. In particular, a diverse workforce will bring employees that are more qualified and will have more experience in the field, which can help a business bring in new ideas that the business may not have had.
A diverse workforce will also improve a business's productivity and performance, which is beneficial to the business. It will also help the business to remain sustainable in the future, because a wider range of skills and expertise can help businesses to grow and prosper.
If you want an audit on your current recruitment set-up, or interested to know how Pretium Resourcing is helping other clients manage their temporary workforce, please get in touch today.